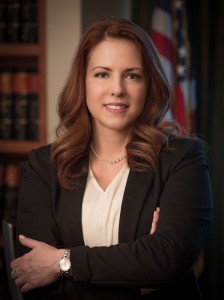 Rebecca and children, Isabella and Elijah, currently live in Kennesaw. Her oldest, Michael lives with his father in Marietta.
Rebecca is deeply committed to helping the cause of orphaned children, especially older orphaned children and ones with special needs. Her oldest child, Michael, was adopted from Latvia in 2008 through New Horizons for Children, a local-based hosting program. Her youngest, Eli, was born with Down Syndrome. As a result, Rebecca is the founder and Executive Director of The Keaton Foundation, a non-profit organization created to assist older orphans and special needs children to find families of their own. In addition, Rebecca serves on the Board of Right in the Community, a non-profit organization that assists families of children with disabilities.
Rebecca is strongly committed to the Republican Party and conservative principles. She is currently an active member of the Cobb GOP, Cobb Young Republicans, and the Cobb County Republican Women's Club. Rebecca was selected to attend and recently graduated from the Republican Leadership of Georgia, the leadership program set up by the late US Senator Paul Coverdell. Rebecca has also served on the Business Advisory Council for the National Republican Congressional Committee for the State of Georgia.
Additionally, Rebecca is uniquely involved with her local community. She is a member of the Cobb Chamber of Commerce, Marietta Kiwanis and has served on the Region One Board of the Department of Behavioral Health and Developmental Disabilities.
She was admitted to the Georgia Bar in 1994 after receiving her law degree from John Marshall Law School. She earned her undergraduate Business degree from Birmingham-Southern College in Birmingham, Alabama.   Rebecca currently serves as the 7th District Chair of the Council of Superior Court Clerks of Georgia.  She has lived in Cobb County for 20 years.